For over 10 years, Microsoft has been committed to operating sustainably and delivering sustainable technology for clients. Since 2012, Microsoft sustainability has meant they are 100 percent carbon neutral (net zero). This means that they remove as much carbon as they are emitting, every year. This is through carbon removal (carbon offsetting) or directly reducing carbon emissions.
With the vast majority of .NET applications being developed within Microsoft Azure, we take a look at Microsoft Azure sustainability options and advancements being offered to companies.
Firstly, why is sustainability important? Consumers are making ethical buying decisions and want to buy from companies that are ethical and sustainable. Utilising sustainable technology in your IT infrastructure plays an important part in meeting these commitments.
Microsoft Azure sustainability developments
A 2018 Microsoft study found that the Azure cloud platform can be up to 93 percent more energy efficient and up to 98 percent more carbon efficient compared to other traditional on-premise solutions.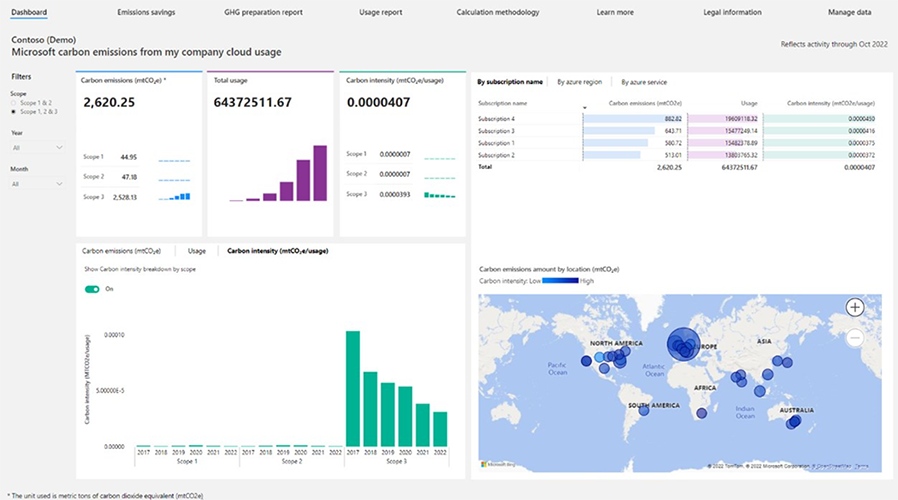 In 2021, Microsoft introduced the Emissions Impact Dashboard for Azure and MS365 to help customers measure greenhouse gas emissions related to their Microsoft Cloud usage. The dashboard provides carbon emission analysis to companies in order to action positive changes to be greener and cleaner.
Unify data intelligence – Improve sustainability reporting and transform your company
Sustainable IT infrastructure – Identify opportunity to replace your tools and systems with efficient options
Reduce operational impact on the environment – Keep track of and minimise business impact on the environment
Sustainable value chains – Enhance accountability across the entire value chain
Microsoft sustainability future goals
Further to their current sustainable actions, the Microsoft sustainability goals set for the future ensure they are working towards even greater targets.
Carbon negative by 2030 and removal of historical emission by 2050: Microsoft wants to remove its carbon footprint from the environment completely, including historical emissions.
100% renewable energy by 2025: Microsoft has currently purchased agreements for the supply of green energy for 100% of the carbon-emitting energy consumed in all of its data centres.
Water positive by 2030: By reducing and replenishing more water than we consume and targeting water-stressed regions where Microsoft work.
Zero Waste by 2030: By diverting waste from landfills or incineration and reducing wastes from direct operations, products, and packaging. Microsoft has diverted more than 60,000 metric tons of waste in the 2020 financial year.
The journey to being sustainable
Join the commitment to reduce your environmental impact owing to emissions produced in your business operations. By choosing us to deliver a solution in Azure or .NET, you'll be on your way to a greener, cleaner future.